Two FLEX Charity Cars now on the road for Fondation EME
For about eight weeks, two electric Mini cars from FLEX will be collecting funds for Fondation EME. The amount is specifically dedicated to personal concerts in hospitals or nursing homes. Each car-sharing user can simultaneously make a positive contribution per kilometer driven.
The mission of the cars is clearly recognizable to outsiders with their individual branding: they are driving in partnership between CFL Mobility and Fondation EME. The catch: every euro revenue generated by car-sharing customers will be donated 100%.
"We are very happy to be able to work with Fondation EME. With its integrative, musical, and social projects, it addresses exactly what we want to enable our customers to do: each of our customers can choose one of the two cars specifically and, in addition to the car-sharing principle, have a positive effect on the environment and our society with their ride. Sharing to have more together is a model way to reflect the principle of sharing," explains Pit Reiter, General Manager of CFL Mobility.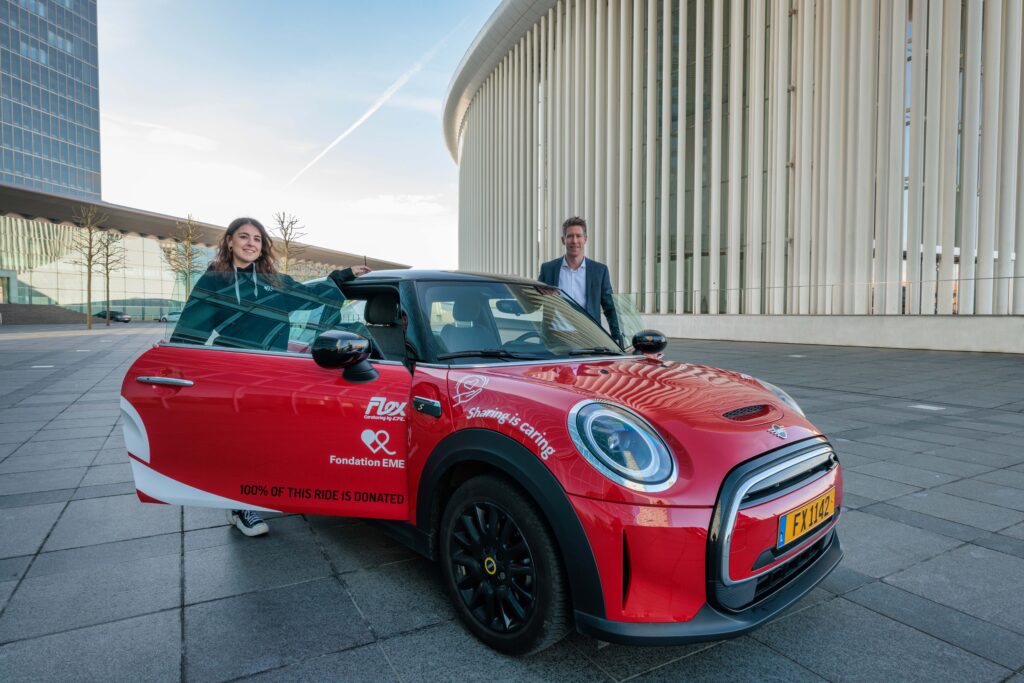 Sarah Bergdoll, General Coordinator of Fondation EME adds, "We look forward to a great response from FLEX customers for our project offering of being able to bring live concerts to hospitals." The already well-established music program has held over 2,000 concerts in hospitals, pediatric departments, and nursing homes since its founding in 2009. These are played by various ensembles and groups of professional musicians, some of whom are from the Luxembourg Philharmonic Orchestra.
The donation status will be communicated on www.flex.lu and the social media channels of FLEX and Fondation EME.
---
The Idea of FLEX Charity Cars: Every Kilometer Counts!
Following the motto "who shares, wins!" the "FLEX Charity Car" project will be launched by CFL Mobility in 2022. Through its social responsibility as a company, humanitarian, social, and sustainable projects are supported. For this purpose, selected partner organizations in Luxembourg are worked with, which are working towards the same goals and promoting an inclusive, sustainable future for the community.
About Fondation EME
Fondation EME promotes a better coexistence of all people through the universal language of music. Since 2009, Fondation EME has been working to provide access to cultural events to people with physical or social limitations, considering their needs. Through the diversity of its projects and the musicians involved, as well as the support of private donors and many partnerships with social institutions, it aims to include the most vulnerable people in the cultural life of Luxembourg. Every year, nearly 800 events are organized for older people, people with illnesses, people with special needs, youth in need and socially disadvantaged people. The programs of Fondation EME are located at the intersection of social work, music, and culture. More information: www.fondation-eme.lu
Back to listing